Student theatre of variety miniatures "The Fifth Love"
Theater pop miniatures "Fifth Love" was created in 1994 within the walls of Aerospace University (at that time still the Kuibyshev Aviation Institute).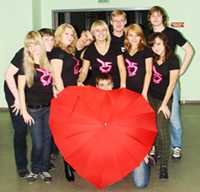 Then a small group of students decided to try his hand at the genre of pop humor. At that time, the Institute has been a lot of strong STEM - such well-known in the city and outside groups, like "Wow," "Children of Lieutenant Schmidt," KVN "Samara plane." Nevertheless, the program young team like the audience.
STEM has repeatedly won prizes at festivals "Student Spring" within the university, he became the winner and the prize-winner of city, regional tours, as well as the final winner of the festival "Russian Student Spring".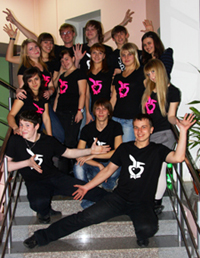 Repeatedly team became the winner of the festival "Earth - the planet of people" in Volgograd.
Currently, the "Fifth Love" works in almost all genres of pop miniatures - monologues, skits, games miniatures, pantomime, original genre. Skate Youth Theater - a musical parody sinhrobuffonady, music and pantomime, very fond of Samara public.
Another feature that distinguishes this group from other STEM city - a repertoire that is entirely the author's. Miniatures "Fifth Love" show many other Stam from different cities of Russia and CIS countries.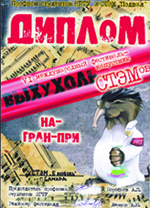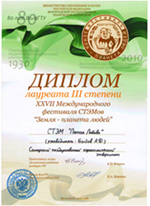 Who STEM - a creative laboratory. The team work and create in different genres. In speeches "Fifth love" can be seen classical miniatures, performances, dance, vocal and instrumental numbers, slapstick, clowning, video, numbers of original genre.
The team consists of students of the Faculty of Radio Engineering and beyond. At the moment, the head of the team is Ludmila Presnyakova, 5407 group.
In 2011, STEM has already managed to visit the international festival "Muskrat 2011" in Voronezh and bring back "On Gras Prix" and "Miss Desman 2011". Repeatedly team became the winner of the festival "Earth - the planet of people" in Volgograd. In the period from 2013 to 2015, STEM is engaged not only prizes, but also the awards for: best actress, best room, acting.
In the team has a bright past, the present and the motley bright future! :)
On all questions to answer in person.
Administrator Stam "Fifth love"
Uvarova Elena, Group 6364-120304D